Dominican Republic Vacations
Dominican Republic vacations offer a vibrant travel destination whose endless charms bring the island's admirers back to vacation time and again. The flawless beaches and sparkling cobalt waters of the Dominican Republic are nature's gift to visitors on vacation.
The Dominican Republic, occupy the eastern portion of the lush island of Hispaniola, features 1,000 miles of sugary white-sand beaches shaded by coconut palms. But its not just a beach destination, as it offers mountainous regions including the Caribbean's highest mountain, Pico Duarte, and other natural wonders including Lake Enriquillo, the Caribbean's largest lake and lowest elevation. Quisqueya, as Dominicans often call their country, also features great biological diversity.
And whether your vacation includes enjoying the unspoiled beauty of the Dominican Republic from a sailboat, surfboard or horseback, you'll be enthralled with the beauty of your vacation experience.
There's plenty to explore while on vacation on the charismatic island of the Dominican Republic, where old world flavors and long-standing colonial traditions rest side by side with the contemporary rhythms of the Caribbean.
And for the truly inspired, be certain to take in a baseball game – the national passion of Dominican Republic.
Punta Cana Vacations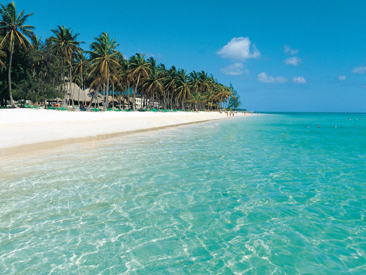 Punta Cana Vacations was made for vacationers seeking rest and relaxation with a beautiful Caribbean atmosphere and a laid-back attitude. Sitting on the eastern tip of the Dominican Republic, Punta Cana is a sun-soaked coastal town consisting almost solely of beaches, resorts and tourist amenities.  The ultimate beach getaway, a trip to these silky-white beaches is a sun-worshipers tropical heaven.
If basking in the warm glow of the sun with a frozen drink in hand all day is not your thing, don't worry — Punta Cana has a variety of other activities and state-of-the-art attractions for everyone. Here, impressive golf courses are almost as well known as the beaches. The Bavaro and La Cana Golf Courses are two of the best in the Caribbean. If adventure is more appealing, trek through the hidden caves, mangroves and private beaches on a 4x4s.
Samana Vacations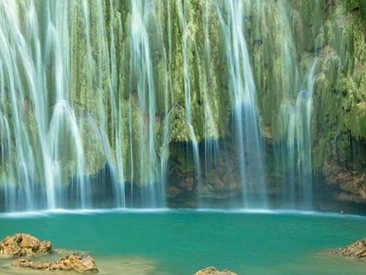 Samana Vacations are known for its secluded beaches, turquoise ocean waters and lush green mountains covered with coconut palm trees and the magnificent views of the Bay of Samana. This eco-tourism destination is surrounded by breathtaking nature.
The Samaná Peninsula on the Northeast Coast of Dominican Republic is one of the country's most breathtakingly beautiful regions. Three main towns located on the Samaná Peninsula are the focal point for tourism activities: Samaná , Las Terrenas & Las Galeras.
The Peninsula is a romantic destination featuring majestic waterfalls, the secluded Cayo Levantado Island, tropical forests, and Dominican Republic's Whale Sanctuary, where thousands of humpback whales return during the winter months.
Puerto Plata Vacations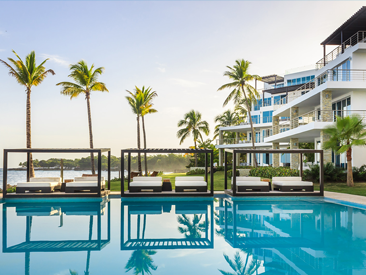 Located along Dominican Republic's northern Amber Coast, Puerto Plata is surrounded by lush mountain ranges, warm powdery sands, and the sparkling waters of the Atlantic.
Here, the infectious rhythms of Caribbean music can be heard all around. In the resort area of Playa Dorada, you'll find all-inclusive hotels situated by an 18-hole golf course, with more than two miles of gorgeous shoreline.
Over in Cabarete, a hip coastal village located just 25 minutes from Puerto Plata, kite boarding and windsurfing are popular offerings. Nearby lies Santiago, the second largest city in Dominican Republic.
Rich with culture and beauty, this city has something for everyone.
Cap Cana Vacations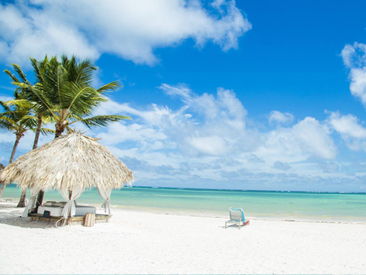 Known as the Beverly Hills of the Dominican Republic, Cap Cana offers 30,000 acres of white-sand beaches, sparkling turquoise waters with luxury resorts and high quality restaurants.
Home to Punta Espada Golf Club, considered one of the best courses in the Caribbean and a spectacular marina, world-famous for its fishing, Cap Cana is a beautiful and desirable vacation spot for travelers of all ages.
Families will delight in fun watersports and a variety of land activities while couples are pampered with replenishing spa treatments, exquisite cuisine and relaxing poolside cocktails.
La Romana Vacations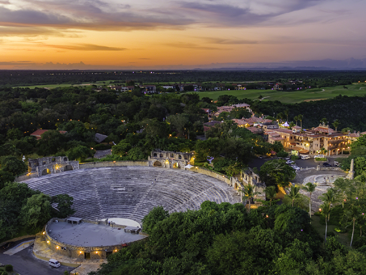 La Romana Vacations area is a vibrant contrast of DR. Located on the southeastern coast of Dominican Republic, La Romana offers an upscale paradise that has been a well-known celebrity favorite for decades.
Natural splendor abounds in this famed destination, with an abundance of sugar cane, fresh water springs, coral reefs, and more! For the ultimate in luxury, be sure to visit Casa de Campo, where you'll experience an out-of-this world getaway complete with golden beaches, upscale resorts, and impeccable service that simply can't be found anywhere else.
Santo Domingo Vacations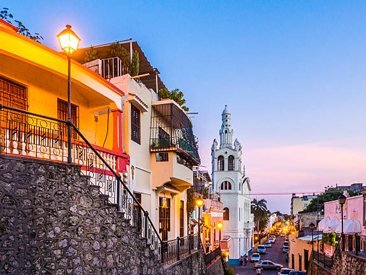 Santo Domingo, on the country south coast, is the capital and the oldest city in the Americas, founded in 1496.
The city cobbled streets feature the continent first cathedral, hospital, chapel and university. Otherwise, Santo Domingo is a modern city divided into two parts by the Ozama River.
The western side is more developed, than the eastern part, known as "Santo Domingo Oriental." Santo Domingo most important tourist destination is the Zona Colonial or Colonial Zone, on the Ozama western bank facing the Caribbean Sea.