Jamaica Vacations
No other Caribbean island offers as much splendor and diversity as  Jamaica Vacations.  There's a reason people visit this jammin' island over and over again. Sugar-white beaches combine with shimmering waters to sooth your soul, enchanting waterfalls and a captivating musical culture, Jamaica strikes a chord, offering an array of adventure of a lifetime experience.
Explore a rich island culture that expresses itself in superb cuisine, scintillating nightlife, and the sensual beat of reggae music. Jamaica is large enough to provide for every taste. From the world-famous beaches of Ocho Rios and Montego Bay to the toe-twinkling seven-mile stretch in Negril, to uncharted nooks of Portland where romantics can hide away, Jamaica vacations is a paradise for everyone.
Jamaica vacations is a paradise found and favorite largely because of the gorgeous beaches that are sprinkled all over the island. The warm sun and the turquoise blue water draw more and more visitors each year.
The Jamaican people are probably some of the friendliest you'll meet. So make sure you take time to enjoy the vibrant culture.
Without a doubt, Negril is one of the world's best locations to watch the sunset. It's on the western tip of Jamaica and when the sun sets, it's like it falls off the sea.
With borrowed ingredients from the far reaches of the world, Jamaican cuisine is a vibrant blend of spices and fresh, sustainable products. With a countless array of fine dining establishment and roadside jerk huts, the gastronomy of Jamaica offers much more than the national dish of ackee and salt fish.
The renowned birthplace of reggae's favorite son, Bob Marley, its capital of Kingston in the south houses a museum in his honor. Surrounded by the lush Blue and John Crow Mountains, Jamaica's first UNESCO World Heritage Site, Kingston, offers ample opportunities to stop and smell the coffee at some of the local coffee farms dotting the Blue Mountain's lush slopes.
Stroll along miles of white sandy beaches in Negril to the west. Snorkel or scuba-dive in the area's tranquil turquoise seas before catching a bite at one of their famous restaurants or bars.
Visit resplendent Dunn's River Falls in the island's shopping capital of Ocho Rios to the north.  While on your Jamaica Vacations don't forget to take a piece of the Caribbean's third-largest isle home with you, as Jamaica's warm tropical breezes and lively reggae beat seep into your soul.
Montego Bay Vacations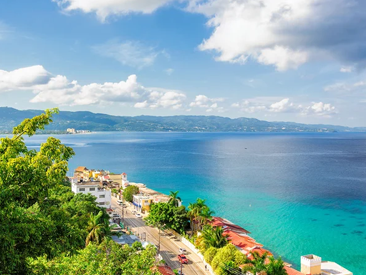 The bustling hub of  "Mo Bay" as Montego Bay is commonly called earns its reputation for being the "tourism capital" with lively street markets, road side food vendors and action-packed water activities at the beaches. Even as the reggae music beats and bustling tourists take advantage of duty-free shopping, you can still find quiet seclusion for restful and relaxing Montego Bay vacations.
Touring the city will let you mix and mingle among locals and tourists. You can weave in and out of local boutiques, sample authentic Jamaican jerk and enjoy the colorful displays of art. Strolling down "Hip Strip" in Montego Bay, you'll find unique art galleries as well as great food vendors and the rhythm of the nightlife.
Negril Vacations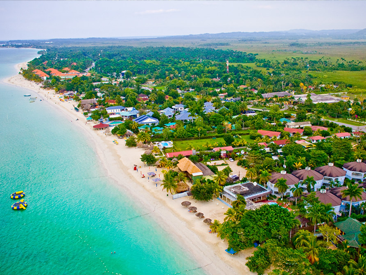 If you prefer island life with a more native flare, then a Negril Vacation will be what you want. Negril is also home world-renowned Seven Mile Beach one of the prettiest beaches in all of Jamaica.
Known for its laid back approach to life, Negril vacations attracts visitors looking for a quiet Jamaican beach retreat. Turquoise blue waters, white sands and palm trees add to the tranquility of the island's pristine beaches. But don't worry, if you want something a little more adventurous, this West coast haven offers plenty of outdoor activities, too. Spend your day snorkeling in the reefs, deep-sea fishing in the seas or join in on one of Negril's claims to fame, cliff jumping. Whether you take it easy or go on a wild cliff jump, Negril's the place to go.
Ocho Rios Vacations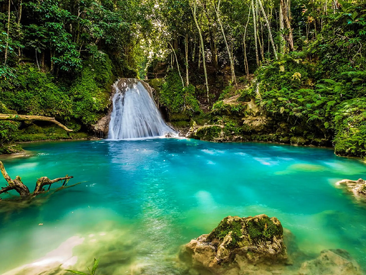 To discover some of the prettiest waterfalls and lush tropical foliage, heading to Ocho Rios will be well-worth your time.  tourists.
Jamaica's best natural landscapes and is known as the "village of eight rivers." Home to one of Jamaica's treasures, Dunn's River Falls, Ocho Rios  vacations doesn't disappoint those looking for outdoor beauty.
From caves, waterfalls, mountains to old plantations, Ocho Rios is perfect for nature-lovers. Not that those who prefer to stay indoors need to look elsewhere. This charming and scenic town will treat you to some of the best oceanfront restaurants, as well as to some of the quaintest beaches on the island.
Port Antonio Vacations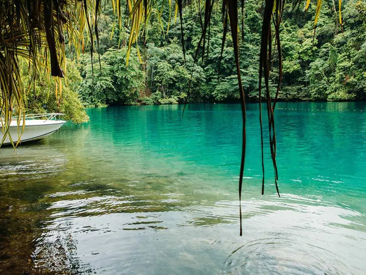 Even though it is a quiet and beautiful haven, Port Antonio isn't only visited for its charm. If you've got an eye for arts and crafts, and all the jewels Jamaica vacations has to offer, come and explore the city.
South Coast Vacations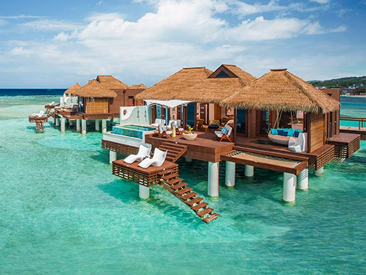 For true luxury, you won't find better than the South Coast. Soak up the warmth of the natural healing mineral baths, or saddle up and ride down to the dark sandy beach. There are many treats for you on the coast.
Kingston Vacations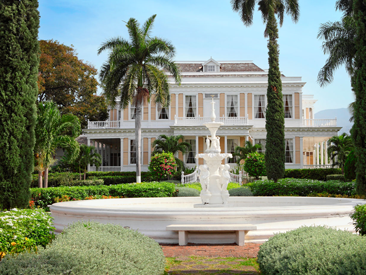 Located on the East side of the island, Kingston is the country's capital and its cultural and financial center. Here you'll find Jamaican city life at its finest. And when you've had enough of the city life, you can explore the nearby Blue Mountains, known for their coffee beans and trails.