US Virgin Island Vacations
Surrounded by the crystal-clear waters of the Caribbean, the US Virgin Island Vacations boast some of the most splendid coastlines in the world, with white sandy beaches, astonishing coral reefs, plentiful marine life, secluded coves, and untouched rain forests rising up above the sea-swept landscape. Luxury resorts and fine hotels share the streets with old colonial architecture. Yet it is still possible to escape the crowds and find that bit of elusive paradise, to relax away from the divers and sailors, the sightseers, the ecological tour groups, and the shoppers.
Caribbean colour touches every aspect of the islands, blending with the strong Danish influence in the towns. White sails glide effortlessly across the emerald waters; local craftsmen display their unique island art along cobblestone alleyways; tiled villa roofs provide a splash of red against the verdant hillside; busy markets supply the essentials for a delicious cuisine; and the sounds of folk songs and calypso bands fill the air.
St Thomas, St John, and St Croix are the biggest and most visited of the 60 islands that make up the US Virigin Island Vacations.
St. Thomas Vacations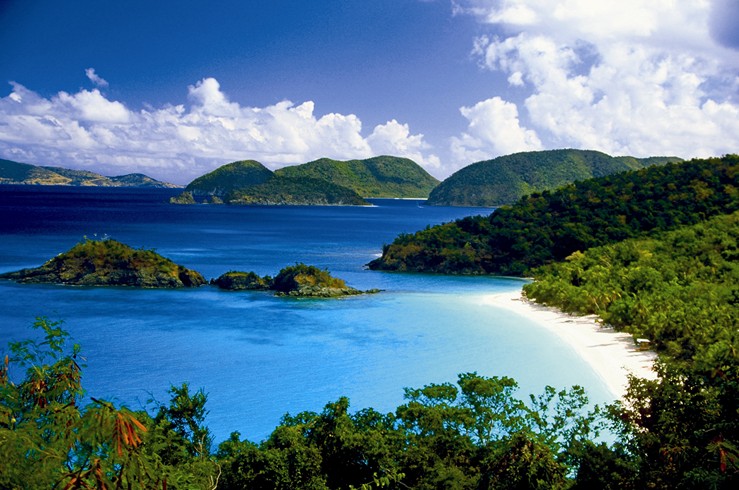 St Thomas. It is the most Americanized of the chain and is famous for its world-class duty free shopping. Nearby St John is an unspoilt nature lover's paradise, with most of its forests, pristine beaches, and reefs part of a protected national park.
Being the most accessible of the islands combining natural beauty with first-rate amenities, St Thomas offers numerous activities on and off the water, a variety of accommodation including fine hotels, and good international cuisine.
St. Croix Vacations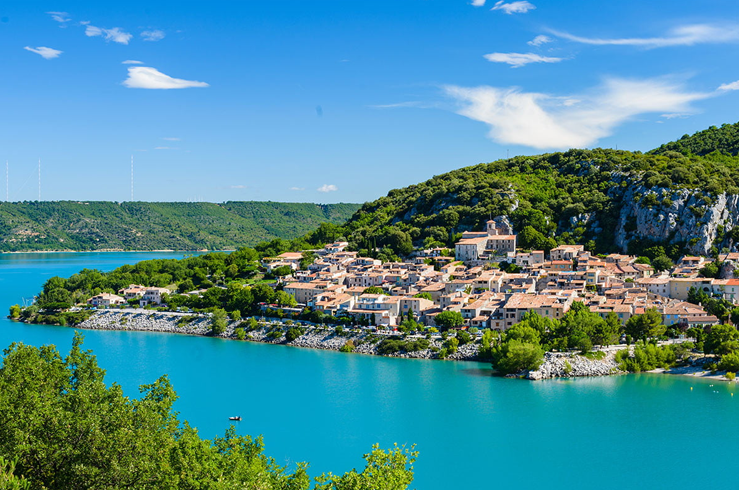 St. Croix is the largest of the Virgin Islands and is fairly remote from the others and retains an unhurried island atmosphere. Historic remnants are scattered about the landscape.  Explore the the pretty Danish-influenced towns of Frederiksted and Christiansted or take an excursion to a national park.
Covered in forested hills and fertile lowlands, it is also surrounded by picturesque beaches and coral reefs providing excellent diving opportunities, particularly along the north coast.
St.Johns Vacations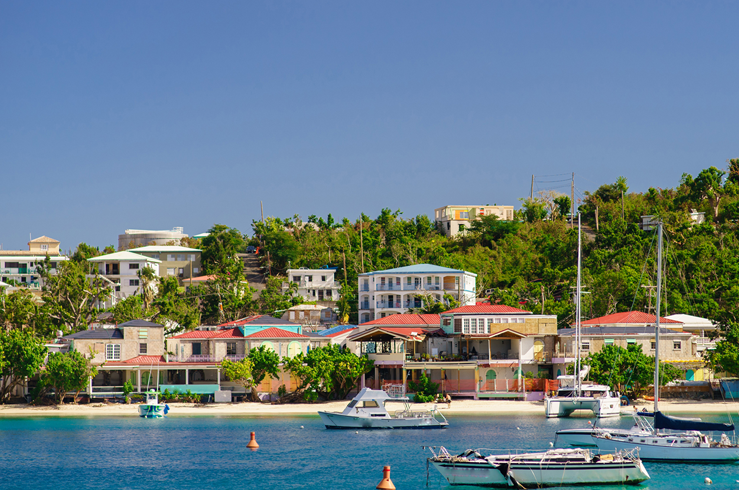 The smallest of the islands, two thirds of St John consists of a national park, a peaceful and largely unspoilt paradise for nature lovers that offers pristine forests, secluded white beaches, hidden coves, reefs, and miles of hiking trails.
The centre of activity on St John is Cruz Bay, a small town offering specialty shopping, lively bars, and delicious cuisine. Of the dozens of beaches, the most popular is Trunk Bay. It is one of the world's most photographed spots, offering swimming and excellent marine life in the protected reefs.