Mexico Vacations
Mexico vacations can anything you dream of it to be. The rich land… The dreamy landscape… The warmth of its people… The past and the present in perfect harmony… This is Mexico.
Mexico vacations offers vacationers the tranquility and beauty of its lovely beaches, known and admired all over the world for their eternal sun and warm ambiance.
It is one of the only places where you can find spectacular archeological sites and colonial cities that tell stories of glory and tradition. Unmatched landscapes, varied and exotic dishes, and the genius of Mexican craftsmanship all contribute to the wonder of this beautiful country. Mexico is a land of contrast, tradition, culture and fun, all at an excellent price and first class comfort.
Mexico has you covered. From swimming and snorkeling in Xcaret to zip lining through the cloud forests, Mexico has just about everything that adrenaline junkies and eco-friendly lovers would want. However, if you'd rather laze on a palm-studded beach, or experience high-energy, luxury treatment complete with nightclubs, delicious restaurants and a hotel staff waiting to pamper your hand and feet, then we've got to tell you – Mexico Vacations it is!
Each destination is uniquely different in their own special way. Cancun's got nightlife and a party scene while Cozumel offers outdoor adventure like diving and snorkeling. The west coast has even more to boast. Los Cabos and Puerto Vallarta both offer beaches, world-class hotels and great golf courses, making them perfect family vacation spots. However, adventure-minded travelers will want to head to either Mazatlan to explore historic ruins or Ixtapa/Zihuatanejo, which has a similar vibe, but with the feel of an upscale city. And for the escapist, Huatulco and Manzanillo boast virtually untouched natural beauty.
Cancun Vacations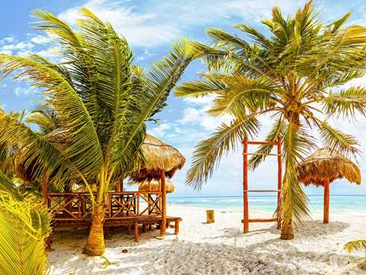 Cancún vacations boasts a superb location, a year-round mild climate and gorgeous, warm, sandy white beaches washed by the Caribbean Sea. Its waters, sheltered by Isla Mujeres, are calm and perfect for surfing, sailing, diving and boat trips; those facing the open surf have stronger currents but are also suitable for fishing and snorkeling.
Cancún's famous hotels combine luxury and comfort with hospitality and offer access to tennis, golf and spas. Nightlife in Cancún's hotel zone is extremely varied. You will find some of the largest discos in the world, restaurants with some of the world's most famous chefs, as well as fast-food outlets. If you are looking for a calmer atmosphere, there are jazz and piano bars, and those offering traditional mariachi music as well. Cancún is home to fascinating Mayan Ruins, and a museum displaying pieces from this ancient culture. Tours can be arranged beforehand to Quintana Roo and the neighboring Yucatan, two of the most impressive places in the Mayan world
Riviera Maya Vacations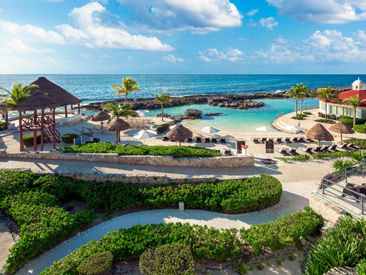 There's the Riviera, Then there's "the" Riviera Maya vacation. This escape haven is a magical world filled with mystery, beauty, ancient traditions, pristine beaches that caressed by calm, turquoise waters and bathed by gentle breezes. Riviera Maya vacations offers stretches of white sand fringed with palm trees and protected by a chain of coral reefs. Miles of untouched powder white sand as far as the eye can see beckon vacationers in search of quiet and relaxation. Known and treasured by locals, but still virtually undiscovered, these unspoiled serene strands of beach, as plentiful as the region's sunny days, make even the most seasoned traveler feel as if they are on their own deserted island.
Just a few miles from Playa del Carmen, the Riviera Maya's shopping and dining center, and home to the most popular beach, are Playa del Secreto, Playa Paraiso and Punta Maroma. Long stretches of white sand, popular with sea turtles and crabs, visitors a wealth of peace and tranquility.
Los Cabos Vacations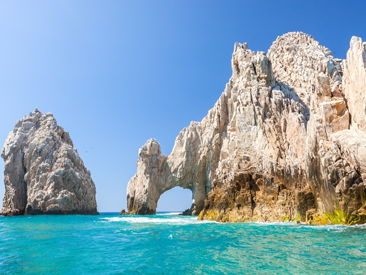 Los Cabos consists of San Jose del Cabo and Cabo San Lucas, two wonderful destinations in one connected by a modern highway for your enjoyment and exploration.
Los Cabos vacations takes you desert of wilderness enhanced by crystal clear ocean waters. Cabos is known for some of the finest marlin fishing in the world. Situated on the tip of the Baja Peninsula and proudly claims to have over 300 days of sunshine.  Humpback whales are seen December through March, and pelicans, sea lions, and other marine life, year round.
Cabo San Lucas vacations is full of life with restaurants and nightlife, while its sister town, San Jose del Cabo, is set in a picturesque cobblestone town, and offers the perfect dose of rest and relaxation. San Jose del Cabo is a semi-tropical town lined with avocado and mango trees. Both resort areas have ultra-modern hotels. Between the two is a golfers paradise, with some of the world's finest championship golf courses.
Cozumel Vacations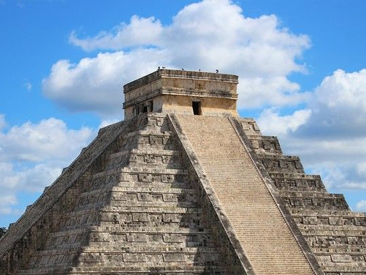 With its eclectic mix of Mexican and Caribbean culture, Cozumel vacations appeals to travelers of all kinds. Come to Cozumel, where the past meets the future and where the beauty of the beaches meets the mystery of the Mayan Culture. Rich in history and in natural wonders, tourists are invited to explore ancient Mayan ruins and the sanctuary of the fertility goddess Ixchel.
Looking for fun, sun and relaxation? Cozumel has all the action you need in an exciting beach vacation.. Families avid for exciting adventures will find numerous tours, trips and activities: snorkeling tours, fishing, swimming with dolphins, catamaran tours. Cozumel remains a top destination for both families and adventurists!
Puerto Vallarta Vacations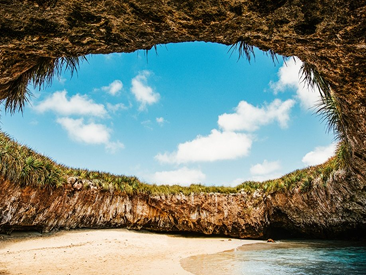 Situated on Banderas Bay, this tropical paradise combines the old with the new in gracious style. Cobblestone streets wind through the town and art galleries and colorful boutiques are filled with Mexican folk art and handicrafts.
International cuisine can be found in any town, as well as in all resort hotels.Puerto Vallarta is divided into various tourist areas; Rivera Nayarit, features luxury resorts and eco-tourism Boutiques, world-renowned surfing, four professional golf courses, rare native wildlife including sea turtles and tropical birds, mountain and island adventures, shopping for local artwork and traditional Huichol handicrafts, charming fishing towns and miles of serene beaches.
Guadalajara Vacations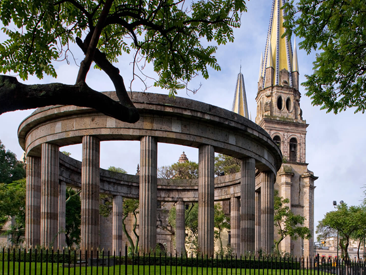 Guadalajara is a monument to Mexico's historic past with its colonial buildings, horse-drawn carriages and beautiful parks and gardens. Take a walk through museums, flowering plazas, and palaces. Guadalajara vacations offers an assortment of international dining along with classic Mexican cuisine.
Shopping is extensive in the Plaza de Sol, the largest shopping center in Latin America. Enjoy shopping in the outdoor markets where you can find everything from native crafts to imported goods and make sure not to miss the world-famous workmanship at the glass factories. Want to see a bullfight? Guadalajara is famous for its bullfighting. Watch the skilled matador work his magic with a raging bull.
Huatulco Vacations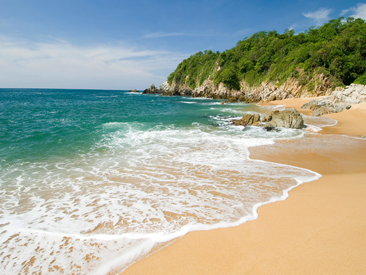 Huatulco vacations are famous for its 36 golden beaches and nine unspoiled bays. You get all the modern comforts of a luxurious resort, while still being surrounded by unspoiled nature, scenic archaeological sites and miles of beaches.
Huatulco is a 22-mile stretch of coastline great for fishing, Huatulco also offers true peace and tranquility on its miles of secluded beaches, tucked away and waiting to be discovered. Many of the bays are only accessible by sea, and a perfect day excursion on the tranquil waters is awaiting.
For water sports fans, Huatulco offers deep-sea fishing and snorkeling. Land lovers can take in the environment by bike or on horseback. Take a day trip and visit La Entrega, a protected marine park with a long coral reef and natural aquarium with more than 700 species of colorful marine life. while diving enthusiasts enjoy the reefs off Chacahua Bay and La Montosa Islands.
Ixtapa Vacations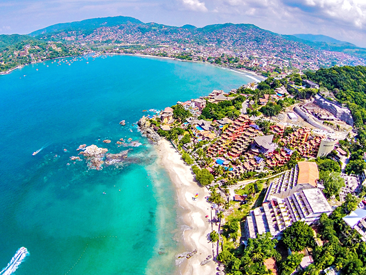 Just minutes away from the quaint old fishing village of Zihuatanejo are the golden beaches of Ixtapa, with modern and luxurious hotels, all inclusive resorts, fine dining and upscale shopping. The best of both worlds exists in the two sister towns. Zihuatanejo with its colorful folk art shops, quaint cobblestone streets, small boutique hotels and street-style seafood restaurants is just four miles away from Ixtapa where the fisherman is in paradise and the sun worshipper idly passes the day away.
If you ask anyone in Ixtapa or Zihuatanejo where to go for the best snorkeling the consensus answer will be clear: Playa Las Gatas. Legend has it that a pre-Hispanic king built a reef in the water so his daughters could swim safely. Today, that reef is filled with colorful marine life that makes any snorkeling adventure a sight to be seen.
All the major hotels offer fine dining and nightlife, or venture into the towns to discover new delights.
Manzanillo Vacations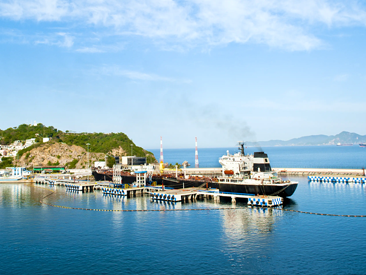 If you crave pristine beaches, cool waters and an authentic Mexican experience untouched by modern civilization, then Manzanillo vacations is for you. Manzanillo is spread over two important bays divided by the famous and bright Santiago Peninsula and is surrounded by beautiful beaches along the sparkling blue Pacific. This paradise-like port is not your typical tourist town on the sea.
There exists a certain paradox between the luxury of a vacation center and a busy commercial port. It is a popular spot for visitors looking for quieter and less developed spaces and can be divided into two areas. The downtown area is where harbor and commercial activities are carried out and just a few kilometers further, is the luxurious and quiet tourist area. There is little to pry one away from these pristine beaches, known as the "Heavenly Paradise". Visitors who like to explore can arrange a day trip to Colima and visit its museums or visit the picturesque villages of San Patricio Melaque and Barre de Navidad.
Acapulco Vacations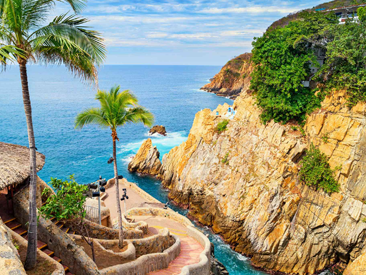 With its stunning beaches, exuberant natural surroundings and a wonderful climate, Acapulco has been dubbed the 'Pearl of the Pacific' and is one of the most popular holiday resorts in Mexico and Latin America. Set in gorgeous natural surroundings, Acapulco offers an enormous range of attractions and activities. Calm, sunny beaches and lush vegetation surround one of the loveliest bays in the Pacific, and blend seamlessly with major hotel complexes, superb restaurants and wonderful nightclubs.
Acapulco vacations has something to suit every taste and budget, and offers a range of activities for the whole family. The main attractions of the bay are its more than twenty beaches, each with its own distinct atmosphere. Vacationers will find ample opportunities for sports, fishing, diving, water skiing and snorkeling. There are also several ecological areas that are ideal for picnics and horse riding, as well as golf courses and tennis courts.
Mazatlan Vacations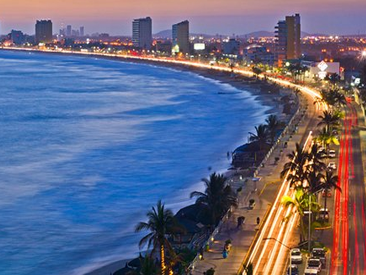 Mazatlan means "place of deer and venison", in the Nahuatl dialect. The Pacific Pearl, as it is referred to, thanks to its mix of sun, sand, culture and history. Blessed with one of the longest stretches of beaches(11 miles) in the country, it's perfect for swimming and watersports all year round.
The hospitality of the Mazatlan population is a quality that sets it apart. Known as a fisherman's paradise with tuna, marlin, and swordfish galore. Golf enthusiasts flock to Mazatlan to tee up on the new championship golf courses. Temperatures in the 80's make Mazatlan the delight of sun worshippers and the sports-minded alike.
The downtown city has been restored and visitors can see the Angela Peratta Theatre or the museum. Several islands make excellent day trips: Isla de los Pajaros for bird-watching, Isla de Venados for snorkeling and Isla de los Chivos for a quiet, romantic beach picnic.
Mexico City Vacations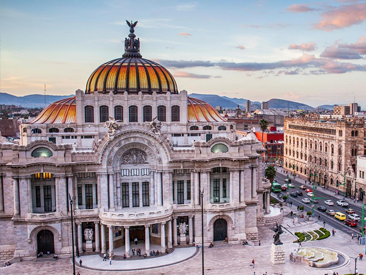 Mexico City, one of the largest and most modern cities in the world, is also one of the most fascinating and is filled with cultural delights.
From museums to the Ballet Folklorico, there are so many attractions to see in Mexico City that the more you get to know about the city you will never want to leave.
An excursion to the floating gardens, Xochimilco, is a side trip not to be missed.
Enjoy this mecca's sidewalk cafes, cosmopolitan restaurants and nightlife, as well as some of the finest shops in the Zona Rosa (the famous Pink Zone).
Go ahead. Start making the memories you've always wanted dream of. Quamis Travel Advisor is ready to help make them a reality.